So what is armoured cable?
Armoured cable has become an increasingly common method of electrical wiring in the past thirty years. This is due to its effectiveness in protecting wires and cables from damage caused by rodents, moisture, and other environmental factors that may cause a short circuit in the system. However, there are several different types of armored cable available depending on their intended application or environment.
There are two types of armoured cables: aluminum wire armour and steel wire armour. Three core steel wire armoured cable is mainly used for Single phase circuits, which must have earth connections. 4-Core steel armoured cable is perfect for TP&N three phase and earth applications.
In this article, we'll look at the difference between single-phase, 3 core and 4 core armoured cables, and even the less common 5 core SWA cable.
What is a Single-Phase Armoured Cable?
The Steel Wire Single Phase Armoured Cable with Colored Cores is ideal for exterior chores around your home or business. The steel wire armour beneath the sheath protects the cores below, making it ideal for use in extreme settings. The cable can also be buried underground.
Single Phase Armoured Cable is a type of mains electrical supply cable with brown, blue, and green/yellow colored cores instead of the standard brown, black, and grey.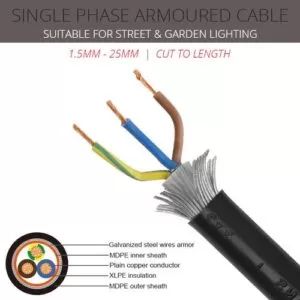 Core colours are:
Brown for the Live connection
Blue for the Neutral
Green and yellow for the earth connection
This cable is perfect for the jobs in the garden or outbuildings, in your garage, Some people may call this armoured twin and earth as the core colours are the same as twin and earth cable, a great choice to use as armoured cable for shed socket circuit.
There are no visible differences between this cable and standard steel wire armour cable also known as steel armoured cable aside from the core colours. The only difference between this cable and ordinary steel wire armour cable is in the cores; therefore, the sizing charts for glands and cleats will be identical.
What is Three-Core Armoured Cable?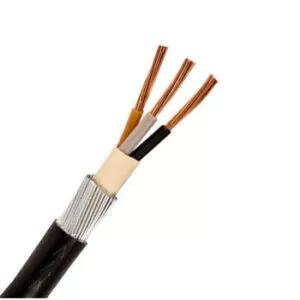 Armored cable in electricity transmission generally refers to steel wire armoured cable (SWA), which is a hard-wearing power cable used for the delivery of mains electricity.
The three-core armoured cable is frequently utilized to offer mains power to houses, and outdoor structures, such as sheds, which are made up of a set of insulated twisted copper wires colored brown, blue/green, and yellow that are encased in a black metal sheath.
Three core armoured cable is commonly used for
Garden Lighting over longer distances
Outdoor Security Lighting
High-output Power tools, for example, in a shed or out-building
Electric Gates
Shed or outhouse heating
Our most popular cable is 6mm armoured cable  great for most hot tub installations or garden summer houses.
What is 4 Core Armoured Cable?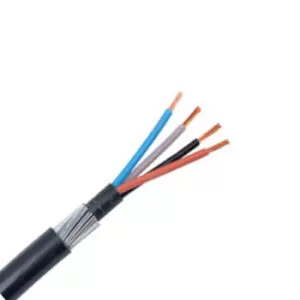 Four core armoured cable is a type of electrical power cable used to transport both low voltage and low current signals in single-phase systems. The four cores consist of three insulated copper wires that are colored brown, blue/green, and yellow, with an uninsulated wire of the same colors serving as the protective armour.
4 Core Armoured Cable is multi-core PVC cable with a steel wire armour or SWA. This cable is intended for a wide range of applications, including underground power networks, indoor and outdoor installations, as well as many more! The 4 Core cable is also frequently used in three-phase circuits.
Four core armoured cable is commonly used for:
Low Voltage Lighting
Solar panels (including ground mount and roof mounts)
Low-voltage, low-transmission installations such as extractor fans that are controlled by PIRs or humidity detectors.
When to use armoured cable?
Armoured cable should be used when a level of mechanical protection is required.  i.e. anything you feel could damage the cable. It is nearly always used for underground cables through ducts. selecting the correct cable is very important to ensure a safe long-lasting electrical installation.